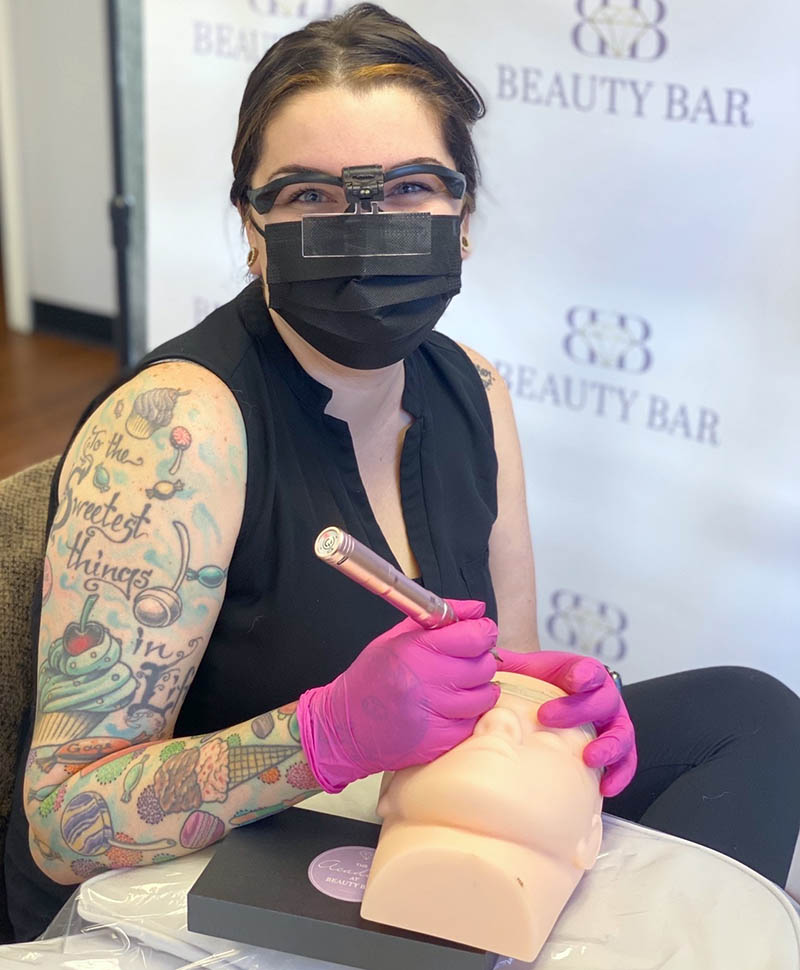 I started my training with Jenni in April 2017.
I started with Lash Extensions and since then have done Microblading, Lash Lifts, Combo Brows and evening some online marketing! Jenni is one of the most genuine people I have met, which makes her the perfect support system. She honestly just wants you to succeed and be your best. Jenni goes way above and beyond in her training and I've never felt incompetent when I'm back at my shop on my own because of her support. 
I've been able to reach out to her this entire time and she's always reached out to tell me about new products or techniques. I still plan to get even more education under my belt and I will without a doubt be learning from the best, Jenni.
– Michelle Gurr
I attended Bissell Beauty Academy's Brow Lamination Training back in September! It was an absolutely amazing experience! Jenni is very informative! I knew right from the being of class that I would receive the best education & be able to provide my clients with the best service possible!
Jenni is one of the best educators I've met, her attention to detail and continued support makes her courses comfortable. You get to leave your course feeling confident, knowing that you will always be able to reach out to her for support
– Victoria
Thank you so much for the experience at your beauty academy, Jenni !
It was not only worth the wait, but also the distance in travel! I feel like I learnt a lot, between the combo Brows , shading , micro blading and lip blush perfection course.
I came back more confident and ready to move forward with a great new technique!
And besides that, you really went above and beyond in so many ways! Feels great to know you are still there if ever I have any more questions.
Thank you for everything ! You're amazing !!

– Maria
I have been a student of Bissell's Beauty Academy since 2015.
I have taken several courses with Jenni over the years. The patient, experienced guidance that she gives is second to none. The wealth of knowledge she shares with her students shows just how dedicated she is to her student success.
I would highly recommend Bissell's Beauty Academy to anyone considering a career in the industry.
– Heather Fraser
I did my first course with Jenni 4 years ago! It was the start of my lash career and I am so thankful I went with Jenni. It was so much more than just a lash course. I got a mentor in the industry and life long connections. She wants all of her students to succeed and it really shows. Since the lash course I have also done permanent makeup courses with Beauty Bar. If you have the opportunity to do a course with Jenni you will not regret it!
 – Nicole Turc 
My journey into the cosmetic tattoo world all started over 2 years ago with Jenni. I attended a 3 day microblading course at The Beauty Bar and I absolutely fell in love with this industry and Jenni! Jenni is the the type if trainer who really cares about you because when you succeed, she succeeds!
 – Jenna Molotko
CLICK OR SWIPE LEFT TO VIEW MORE