Whether you are new to the PMU world or you are a seasoned artist wanting to up your game, our string mapping and design course is guaranteed to set you apart from your competitors. Learn Jenni's personalized string mapping & design technique which is guaranteed to take your clients brows composition to the next level. With a simple piece of pigmented string we will teach you how to create optimal symmetry when laying out your client's foundation as well as the how to create the entire brow shape and structure.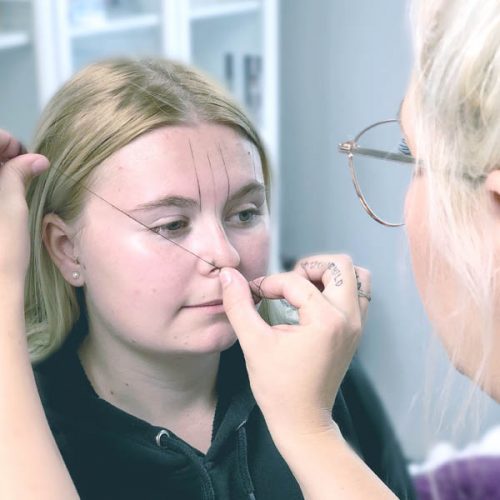 Students are required to complete 2 live models in class with Instructor supervision.
Receive your full certification after course completion.
SEMI PRIVATE TRAINING $750
1 Day of Training
Professional Starter Kit
Access to supplies and products at distribution pricing
Marketing Materials + Discounts on web design and branding material
Discounts on Jennis Beauty Biz Blueprint
Ongoing Mentoring & Support
What if I need to cancel or reschedule?
Rescheduling:
If you need to reschedule and give a notice of 14 days prior to the course date you will receive 1 free reschedule to the next available course date.
If you need to reschedule 7-14 days prior to course date there is a fee of $250 to reschedule.
Rescheduling will NOT be allowed within 7 days prior to the scheduled course date.
Cancellations:
Cancelling your course more than 14 days prior to schedule course date will result in a $250 fee.
Cancelling your course 7-14 days prior to schedule course date will result in a $450 fee.
No refunds will be given for cancellations made 7 days prior to the scheduled course date.
No refunds will be given for no-shows.
State Regulations:
You can participate in these courses without a license however; the state of Michigan requires an aesthetic or cosmetology license to perform lash extension services on the public. It is your responsibility to ensure you are complying with state regulations.
Model Selection:
Students are responsible for supplying a model for this course. Please make sure your model meets the following requirements:
 Does not currently have eyelash extensions on
 Is reliable (if they do not show up you will not be able to practice hands on and will not receive a certificate of completion for the course)
Ideally someone with dark, thick, healthy lashes. Blonde and/or thin lashes can be hard to see and can be very difficult for first time artists.
Can lay flat on their back for a long period of time (3-4 hours)
If you cannot supply your own model we will supply one for you for a $50 fee.