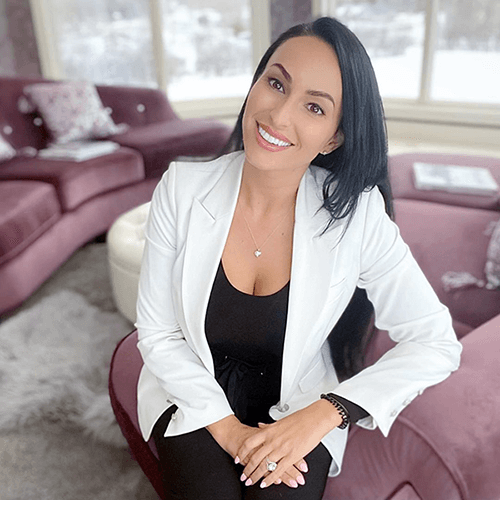 Meet Jenni Bissell, Founder and Owner of Bissell's Beauty Academy.
I have loved the beauty industry for as long as I can remember and started out fresh from school as a skin and laser specialist. I came up through some of the best clinics and spas locally, in Toronto, and around the world. Every new experienced deepened my passion for the beauty industry and refined my skills. 
I experienced the world of entrepreneurship in 2011 first hand with our very own restaurant, the birth of my beautiful son presented me with the opportunity to step back and get clear about my next steps. My passion for the beauty industry was as strong as ever and so I made the decision to level up and strike out on my own.
What is now Bissell's Beauty Academy started out as a one-room home-based studio. With each training and certification, my passion for this industry grew and so did my business. I gained skills, staff, and the industry and business expertise I needed to begin educating and training others new to the beauty world.
Today, Bissell's Beauty Academy is situated in cozy East City offering services and courses in PMU, skincare, lashes, brow enhancements and so much more.
It is my personal commitment to stay current with industry trends and techniques so that I can offer the best to my clients and my students.
While offering the best in PMU services to my clients is still at the heart of Bissell's Beauty, as of 20201, the next evolution of the Academy has arrived.
After being in business for 6.5 years, I am coming into alignment with my calling to be a teacher, trainer, and mentor for up and coming beauty professionals and taking the Academy to the next level.
Bissell's Beauty Academy is poised to be a platform from which future beauty entrepreneurs launch themselves into success. The training and mentorship they receive here at the Academy will help refine their skills and propel them forward.
Together, we will elevate the beauty industry.
xx Jenni Bissell
Bissell's Beauty Academy is dedicated to you and your future as a beauty entrepreneur.
We understand that there are many training options available on the market today but we genuinely urge you to do your homework prior to investing in your future.
Be sure to ask for student testimonials, before & after photos of immediate and healed results from academy instructors as well as a guided studio tour prior to your commitment.
It's important to find a beauty institute that can deliver the tools needed to be comfortable and confident once you leave your course. At BB Academy we provide extensive theory, technique and business development/marketing tools to ensure you succeed.
Jenni Bissell has created and extensive and thorough training program full of generous information from her past decade in the beauty industry to ensure your success after course completion.
"The success of our students reflects our ability to provide the tools they need to flourish in this rewarding industry.
When they succeed we succeed."
Join our mailing list and be the first to know when our new online courses and products launch!